The Transardennaise is the Great Crossing of the Ardennes!
On foot, by bike, mountain bike or car!
If you opt for a hike, the153 km signposted route connects La Roche-en-Ardenne with Bouillon.
If you prefer mountain biking, the unmarked route (272 km) connects Malmedy t with Bouillon .
If you prefer an ordinary bike, car or motorbike the itinerary covers 164 km.
It's important to note that it's not possible to carry a bivouac en route because of the lack of campsites and the fact that wild camping is forbidden.
Livre, carte, roadbook pour vous accompagner
La Maison de la Randonnée offers the following to take with you :
• an IGN map showing the pedestrian routes of the Transardennes and Transfamenne
• the GTA hiking guide
• the GTA roadbook featuring the mountain bike route
• the GTA roadbook featuring the cycle route (also car and motorcycle)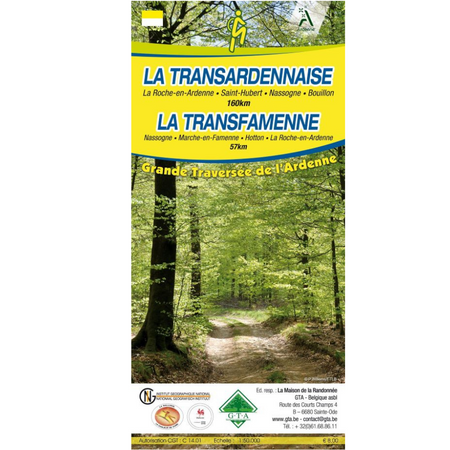 The route is recognised as a permanent circuit (IVV-FFBMP) by the International Federation of Popular Sports and by the Belgian Francophone Federation of Popular Walks.
Every walker can have their walking book stamped by the FFBMP Walking Club at the headquarters of the Maison de la Randonnée – GTA Belgium in Sprimont (route des Courts Champs 4, 6680 Sainte-Ode). For more information, contact +32 475 61 15 06
La Transardennaise on foot
Created in the 1980s La Transardennais was the first long-distance walking route (GTA) across the Ardennes: a trail linking La Roche-en-Ardenne with Bouillon, passing through Saint-Hubert, Nassogne and Redu. The 153 km route is signposted with the GTA's identity colours of yellow and white.
It's an itinerary that highlights the beauty of the Ardennes:
• spectacular valleys (including those of the Ourthe, Laval, Lesse and Semois)
• emblematic sites (La Roche-en-Ardenne, Saint-Hubert, Bouillon)
• picturesque villages (Mirwart, Redu, Our, Daverdisse)
• the great forests of the Ardennes
Tip: The hiking guide allows you to prepare each leg of your hike in advance. Distances between one village and the next are shown, along with the cumulative distance travelled. So you can plan your itinerary according to your personal level of fitness, time, availability of accommodation and the possibility of extending your stay at one location or another to get to know the region better.
The Transardennais mountain bike route
The total distance of the the Transardennais mountain bike variant is 272 km:
Northern section
Southern section
Good to know: the mountain bike route does not correspond exactly with the pedestrian route.
The complete route of La Transardennaise is not signposted for mountain biking. It is accompanied by 2 roadbooks.
La Transardennaise à vélo se parcourt sur une distance de 164 km de La Roche-en-Ardenne à Bouillon.
C'est un itinéraire de découvertes des sites touristiques de l'Ardenne, au départ de La Roche et qui passe par exemple par Saint-Hubert, Nassogne, Mirwart (un des Plus Beaux Villages de Wallonie), Daverdisse, Alle-sur-Semois, Vresse et Rochehaut, le Tombeau du Géant ou encore Curfoz.
Les étapes suivantes sont suggérées:
La Roche-en-Ardenne vers Sprimont: 25,6 km
Sprimont vers Saint-Hubert: 19,5 km
Saint-Hubert vers Nassogne: 17,5 km
Nassogne vers Mirwart: 15 km
Mirwart vers Daverdisse: 21,4 km
Daverdisse vers Mon Idée: 19,2 km
Mon Idée vers Alle-sur-Semois: 20,3 km
Alle-sur-Semois vers Bouillon: 25,5 km
L'itinéraire vélo n'est pas balisé. Il s'accompagne d'1 roadbook.